Experimental
Original production
Sound
Performance
A sound and listening spectacle in YMCA's new pool
Jump in. It's too hot out there to think twice and too dry to for truly important things to flow smoothly.
In 2018, you joined us at the YMCA in the middle night. Which is already a little strange. Slipped out of your street clothes, and stepped into a bathing suit. Took off your shoes, and let your toes caress the damp, blue ceramic edges of the pool. Closed your eyes. Got ready. Took a deep breath, and filled your nostrils with the smell of chlorine that evoked sweet childhood memories. Let yourself go and jumped into the warm water. 
In 2018, you came to Atlantis. The ancient, utopian culture that disappeared beneath the waves. Pores opened, bodies lost their shape, skin softened, and voices bubbled up from within. And if you listened closely, it plunged you into an alternative reality, awash with new voices, subject to new laws and in a completely different time zone.
A one-time experience that turned YMCA's brand new pool, for one magical and enchanted night, into an ex-territorial space in which anything could happen. Birds chirped underwater, the sun rose and set three times, choirs filled the space and the pool's waters with songs old and new, thunderous and gentle, while you floated, dived, experienced, swam and maybe even sang out load—whatever felt right for you.
One Night in Atlantis invited you to dive, in every possible way and perspective, into an extraordinary symphony of listening from the pool's reverberations, sound waves above and below the surface, and the mystical powers of water as a flowing and healing force.
One Night in Atlantis unfolded in the YMCA's new international sport's center, in the public pool, which connects, daily, (like the YMCA) between religions and cultures. In the transitory and borderless kingdom of Atlantis, we are all fluid, and the water that makes up most of our bodies, whether we are a man or a woman, Jew or Muslim, Jerusalemite or Berliner, will flow from one person to another and suggest a new way to live together with compassion, serenity, transparency and clarity.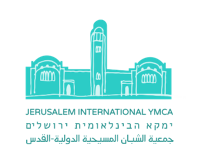 Artistic Director: Faye Shapiro / Ensemble: Noam Ahdut, Amit Fishbein, Maayan Tsadka, Chanan Ben Simon, Avner Miryam, Keren Ben- Altabet, Or Avishay, Orr Sinay, Laila Shuala Bettermann, Mihal Goldstein / Electronics and Sonar Consultant: Amir Bolzman / Sound: Marco Milevski Tomasin / Lighting Design: Nadav Barnea / Design: Maria Tchekhanovets / Head Producer: David Kosher / Producer: Hoodi Ben Ami / Artistic Consultant: Gony Paz / Instrument Construction: Yaniv Shnezer
YMCA