Dozens of musicians, and you, play the music of our times
Mekudeshet loves music. For us, it is one of the most beautiful and powerful forms of artistic expression. Music has always been integral to our creative and inspirational goals and has been responsible for miracles, connections and meetings. It is a language that transcends words and space. Over the past decade, we have invited you to join us at the end of creative processes, the culmination of fascinating journeys that developed in rehearsal rooms and behind the scenes. You stood, or sat, facing the stage, and the finished, polished project unfolded before your eyes.

But the events of the last two years caused us to rethink the musical experience, what it is trying to convey, and how it should look and feel. We want to replace the distance that the stage creates between audience and performer with an intimate space where brilliant musicians encounter audiences unmediated. Instead of staging a perfect, complete performance, we want to open the door to works in progress crafted by masters from multiple genres. In addition to practicing and fine-turning, we will leave space for improvisation and innovation that begins with listening and ends with brilliance.
Tzomet Lev's music events invite you to immerse yourself in sound, to hear a journey, to play this place and time, to be the music.
Click here to download the digital program
We recommend you put these dates in your diary, but meanwhile, here's a taste of what awaits you:
Wednesdays - June 23 ׀ June 30 ׀ July 7
5:00-7:30 pm »
★ Me-Shira—a female choir led by Yael Deckelbaum. We invite you to sound your voice and to join the surrounding circles.
★ Playing with HaMadrasa: gifted musicians from Jerusalem Academy of Music, led by Hagai Bilitzky, play a soundtrack that is perfectly attuned to the sunset and issues an invitation to learn and play together.
And
✰ A flute workshop for all the family and all ages with Elitzur Goldsmith invites you to learn the ancient skill of making pan flutes out of thick-barreled plants and offers a lesson in how to play them.
✰ Healing sounds with Liel Abadi. A meditative musical journey with sounds from all over the world—gongs, crystal bowls, Tibetan bowls, curative singing, shamanic drums, hang drums (handpans), ocean drums, bells, flutes and more.
7:30-8:30 pm »
★ Everybody together: Singing circles meet the Feel Beit ensemble on the main lawn for an hour of magical, immersive music. Guests: Tamar Shawki, Rechela, Ravid Kahalani, and Abatte Barihun.
8:30-11:00 pm »
★ Feel Beit after-party with DJ sets, drinks, nibbles and a place for some spontaneous magic.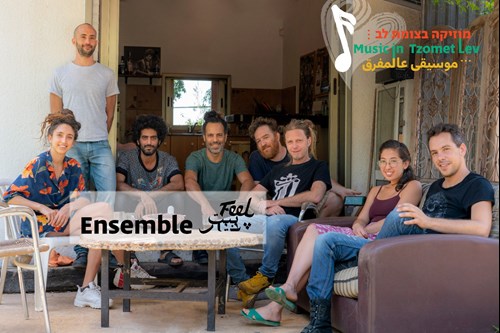 Meet the Feel Beit ensemble, a group of musicians and instrumentalists including Itamar Doari (percussion and musical director), Elyasaf Bashari (oud and bass), Maayan Linik (keyboards, cello, vocals), Roy Friedman (percussion), Mayu Shviro (cello), Yaniv Taichman (string instruments), Arad Yeini (trumpet).

The ensemble, which has already started rehearsing and meeting at Feel Beit, will be performing in Tzomet Lev over the next few weeks, hosting some fabulous guest musicians and filling the Gabriel Sherover Promenade with the music of our times.
🅿️ - Parking is available in the Yes Planet parking lot and the First Station lot
🧣 - Evenings on the promenade can be chilly, so we recommend you bring a scarf or something warm to wear
🥗🧆 - Fresh and tasty nibbles, created by Chef Assaf Ron, will be available
☕🍷 - And, of course, drinks (hot and cold)!!!