For us Jerusalem is our heart of hearts. It is both the source and the foundation. It is both our inspiration and the performance itself. It is both the backdrop and the main stage. The problem and the solution. The starting point. The spring from which everything bursts forth and to which everything flows back.

For the last five years, we have been exploring Jerusalem, drawing inspiration from the city and turning it into the raw material for our artistic productions. We have sought out ways to present Jerusalem as a place that is both holy and secular. We have tried to create art that expresses the inherent tension between the past, present, and future and to turn Jerusalem into a city of contemporary culture.

But now, after five years of experimentation, philosophical debates, creativity, and contemplation, we have come to understand that Jerusalem is, for us at least, a state of consciousness; that Jerusalem is everything that defies definition; that Jerusalem obligates us, always, to step off the well-trodden paths and to absorb both the bad and the good; that Jerusalem compels us to seek out the sublime even as it thrusts us into despair and continues to inject a sense of despondency in the face of this sublimity.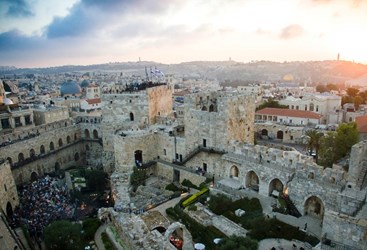 And now, after five years of exploring and deepening our understanding of Jerusalem's manifold layers, we understand that after all is said and done the essence of Jerusalem is contained within the Hebrew root for the words sacred and holy. It is from holiness that faith, hope, and the aspiration for tikkun olam (the concept of repairing the world) derive; holiness is the source of divisiveness, exclusion, and hatred; holiness is both the spring from which all the good of Jerusalem bursts forth and the foundation stone of all that is bad.

And now, after five years of dancing around the starting point, we feel ready and mature enough to reach into Jerusalem's heart of hearts and propose a more expansive and profound interpretation of the words holy, sanctification, and sacredness.
All of our artistic performances will make a modest attempt—with the greatest respect for everything that came before—to propose a new way of viewing the city's holiness; as a place that can both include and exclude every one of us simultaneously; as a place that allows us and even forces us out of our comfort zone and compels us to pursue what we consider sacred.

We will try during the three weeks of Mekudeshet—or actually at any given moment— to go back to the source, to the spring, to the core, and to the heart, and to call on anyone who believes—no matter what they believe in—to come to Jerusalem. Come and find yourselves. Come in peace